2015 Jacksonville Conference
The 2015 conference concluded with one hundred and sixty-six attendees. This was a very well attended conference, and the large amount of people helped it to be one of the best conferences C.L.I.A. has ever had. The weather averaged eighty degrees throughout the week which was a nice respite for those attending from colder climates. The Omni hotel opened their doors for us, and provided a very warm and gracious environment.On Sunday, people began to trickle in for early registration. These people were able to sleep in on Monday morning and avoid the rush which is something to remember for the next conference. When Monday rolled around, the crowds arrived, and so did the conference. While people signed in and enjoyed a complimentary breakfast, the raffles were on display. The big prizes were two IPAD minis, two GoPros, and two guns. Smaller prizes included knives, t-shirts, hats, and tickets to the Jaguars football game on Thursday.
The classes included showing how different drugs were made with hands on approach as well as lecture to improve the attendee's knowledge for courtroom testimony. There was even some excitement as Jerry Bucklin showed what happens when a one pot fails.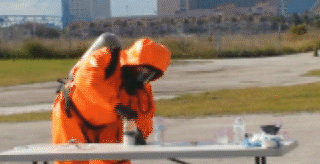 Overall, the conference was a success as it allowed new attendees to grasp the basics of clandestine laboratories and gave the more experienced attendees something new to see and experience. Thank you to all who attended for making it so memorable.